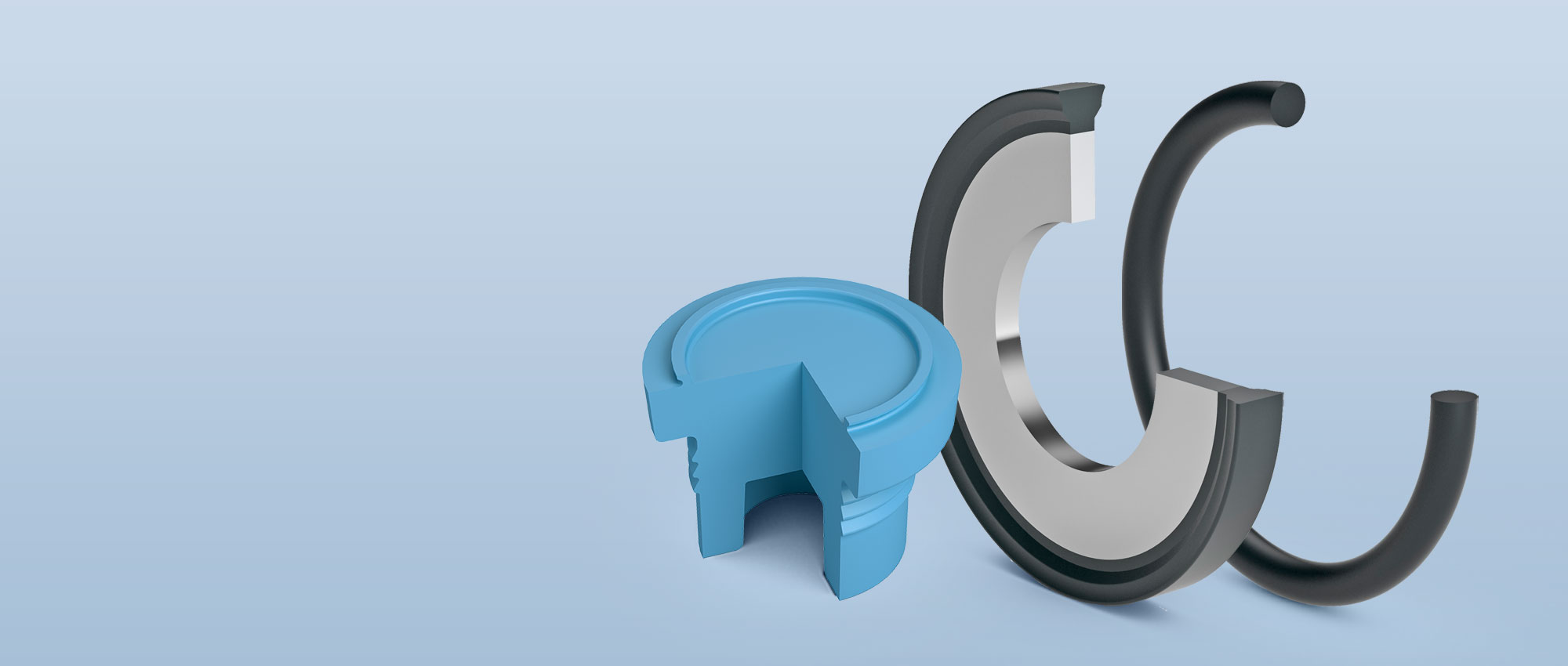 Always the Right Seal
Static Sealing Solutions for the Food & Beverage Industry
Static sealing solutions are used for applications involving no movement between the sealing component and the surface. A distinction is made between static axial seals, where sealing occurs parallel to the seal centerline, and static radial seals, where the seal centerline has a radial seal orientation. The seals most often used for this kind of application are O-rings, which are standardized in their sizes and tolerances.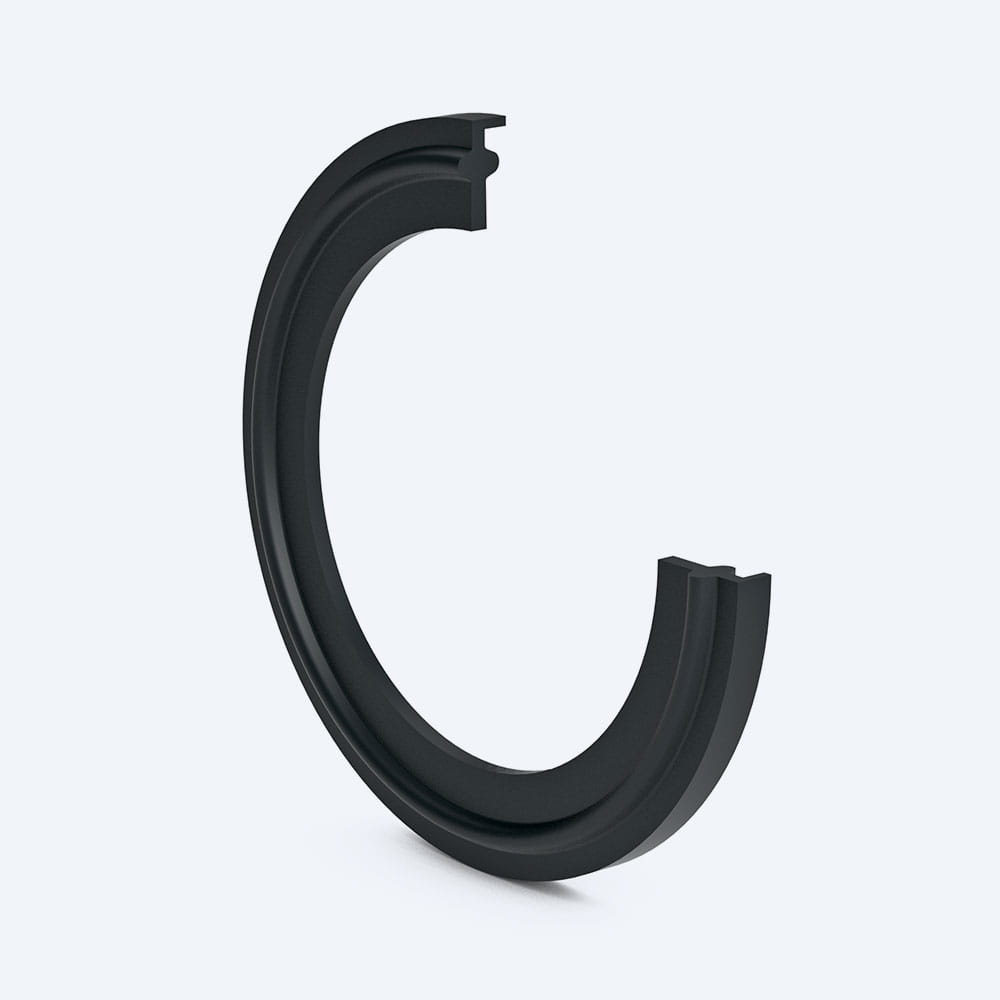 Clamp Seals
Freudenberg has developed clamp seals for simple and secure pipe connections with a wide range of applications in the food and beverage industry. They are the ideal sealing element for flange connections that have to be opened regularly. The five available approved materials, EPDM (black), EPDM (white), Fluoroprene® XP (light blue), VMQ (transparent) peroxide cross-linked and VMQ (transparent) platinum cross-linked, offer all good resistance to water, acids, fatty and aqueous media and prevent aroma transfer. Easy handling and high operating performance are further advantages of standardized clamp seals. On request, the clamp seals are also available without an outer lip.
Product Benefits
Portfolio consisting of five high-performance materials with international approvals

Made in Europe

Standardized and customized dimensions

Good elasticity and easy assembly
Open the 3D view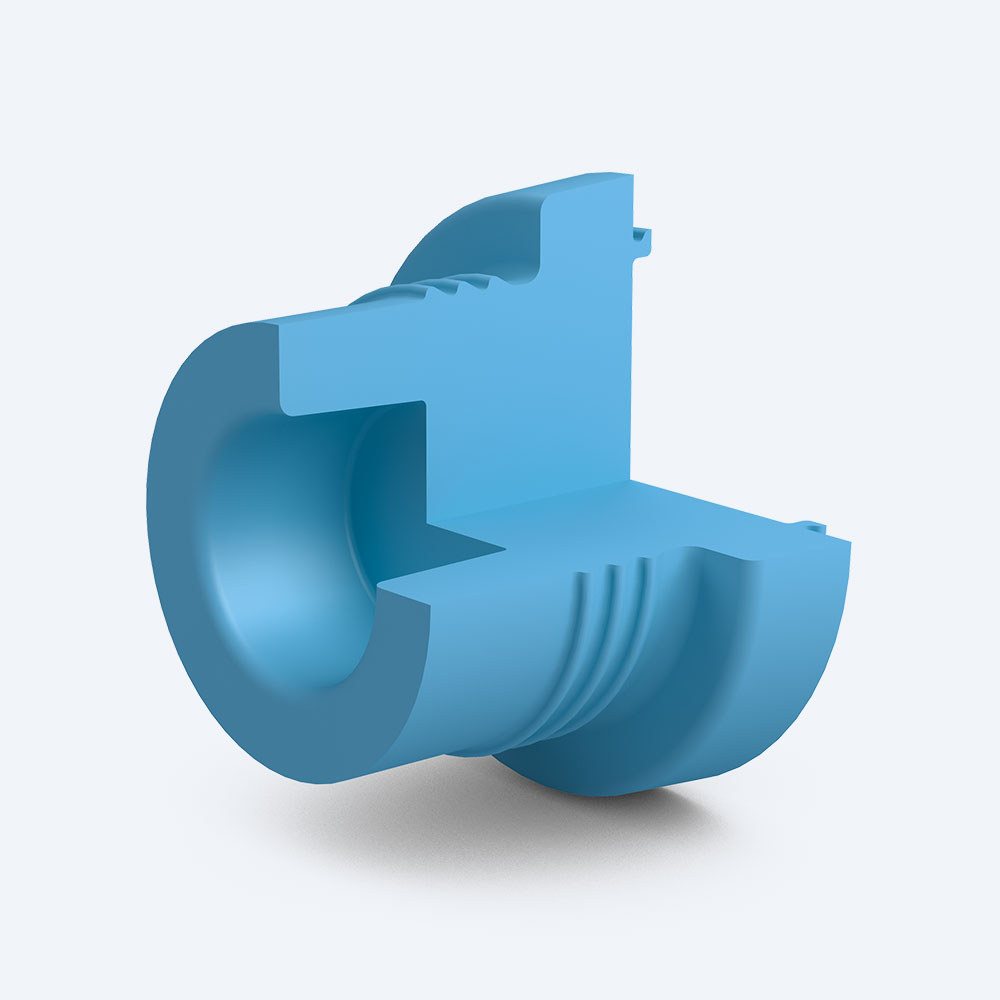 Customer-Specific Parts
Unique applications require individually designed sealing solutions. Flavor transfer, leakage due to compatibility problems, and missing certifications are common challenges in the food and beverage industry, and customer-specific parts from Freudenberg Sealing Technologies overcome them all with high-performance materials that possess the right certifications. They are resistant to water, CO2, dairy products, CIP/SIP media, and syrup. In addition, our specialists offer professional consulting on these issues. We design customer-specific parts for special filling heads and valve seats for beverage systems, double-seat and sterile valves, separators, and many more types of equipment.
Our Freudenberg Xpress® service greatly accelerates the process of prototyping, as machining technology makes it possible to produce several functional samples. Plus, we conduct economical field tests at our test plant to find the best solution tailored to your processes in the fastest possible time.
Product Benefits
We are the global leader in product design and material expertise

Highest quality

Excellent media and temperature resistance

All relevant food and beverage material certifications

Outstanding material, product, and application expertise

Individually designed components

Extensive testing possibilities

Innovative simulation and analysis methods

Components prevent flavor transfer
Download Success Story Tetra Pak®
Download Success Story Bardiani Valvole Spa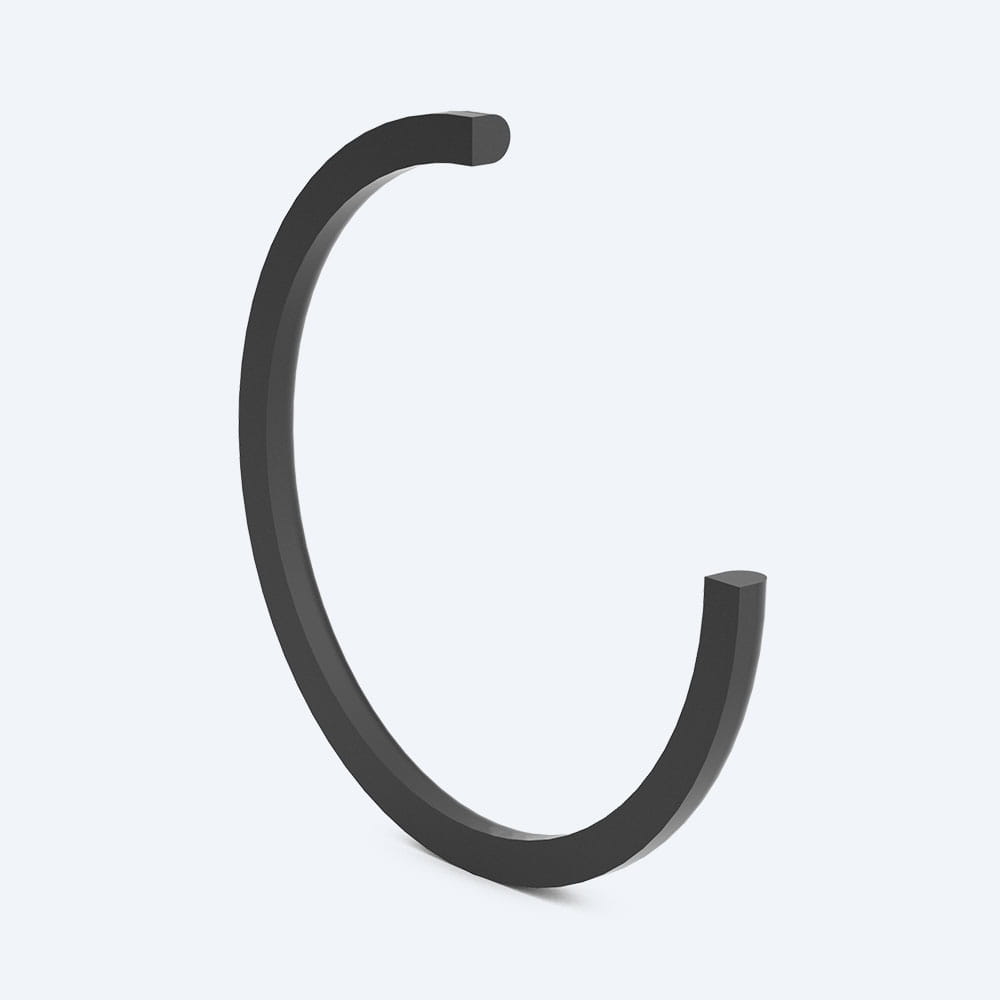 Dairy Couplings
Dairy couplings are used to connect and seal pipe connections. They can be installed very quickly and with little effort. What's more, it is very easy to handle frequent dismantling for cleaning purposes. Our sealing solutions for pipes can vary from standard models to custom versions with lips or flat gaskets – available in all key materials for the food and beverage industry including EPDM, NBR, FKM, VMQ, PTFE, among many others. Due to their exceptional value, they have even been used in smaller facilities that are not continually in operation.
Product Benefits
Easy installation requiring little space

Pressures up to 40 bar

Available in nearly all elastomers

Broad range of dimensions

Excellent price-performance ratio

Standardized sealing element according to DIN 11851

High availability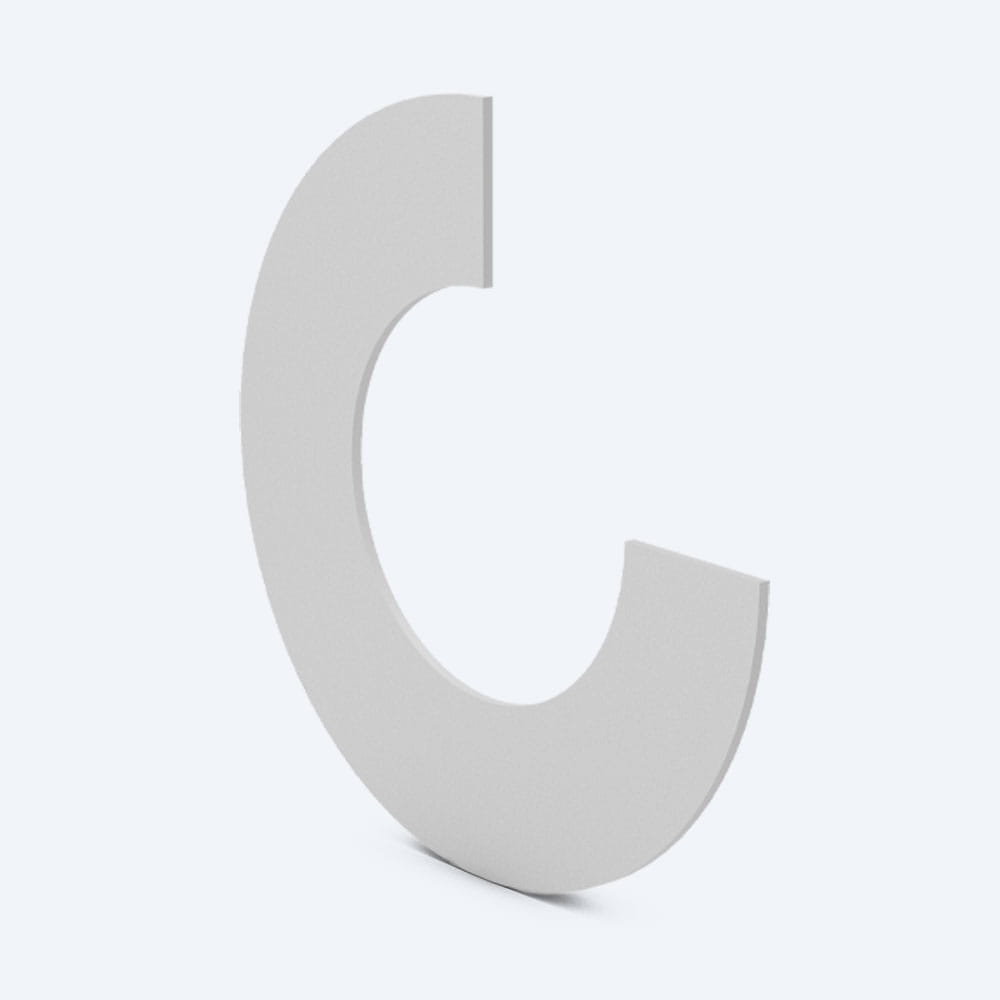 Flat Gaskets
Alongside clamp seals and seals for dairy couplings, flat gaskets are the third option for sealing pipe connections by connecting two flat flanges at valves, fittings, pumps, etc. Freudenberg Sealing Technologies offers different expanded sealing materials compliant with DIN 28091 that seal macro unevenness of the flanges and are highly media and temperature resistant.
All materials comply with EU (Reg.) 1935/2004 and TA Luft. In addition, some are even FDA-compliant and conform to USP Class VI. The materials provide an extremely broad temperature range from -100 °C to +210 °C, some are even able to perform down to -268 °C and up to +315 °C. Freudenberg Sealing Technologies also offers a on one side self-adhesive sealing band that can be flexibly cut to size where it is needed.
Product Benefits
Extremely media and temperature resistant

Standardized sealing elements according to DIN 28091

Flat gaskets can be stamped into individual forms

Self-adhesive sealing band for flexible use

Economical

High availability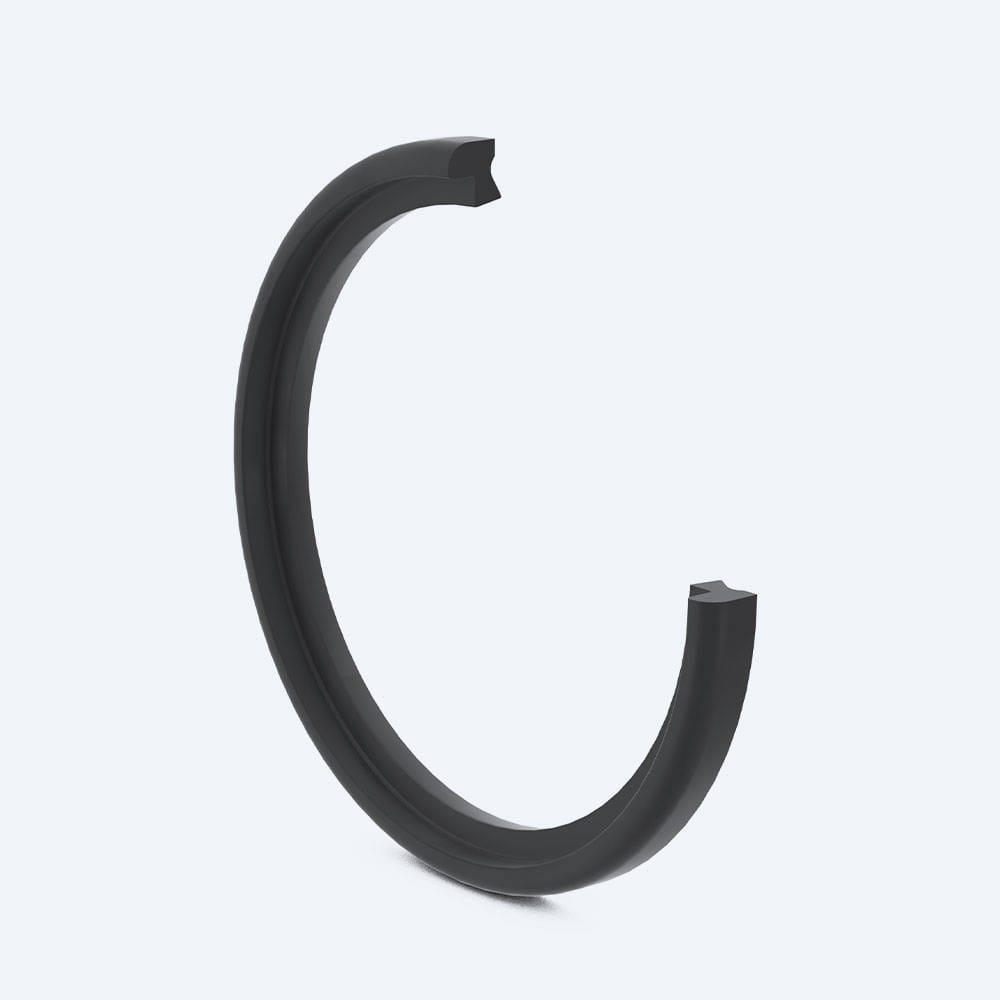 Hygienic Flange Seals for Customized Flanges
For the food, beverage and pharmaceutical industries Freudenberg Sealing Technologies designs hygienic flange seals for customer-specific sealing grooves. Our tailor-made solutions enable hygienic sealing flush with the product. This means the flange seal neither protrudes into the product area, nor does it rebound.
There is a particularly proven design for special housings in the process industry. Thanks to unique FEM analyses, this offers optimized hygienic sealing in contrast to conventional flange seals. The high-performance flange seal also provides a very easy cleanable solution in non-rotationally symmetric systems and standard housings. The material variants, such as EPDM or HNBR, show high resistance to CIP/SIP cleaning media (cleaning in place/sterilization in place) and meet the requirements of the American FDA (Food and Drug Administration). This makes this sealing solution the ideal candidate for demanding operating conditions in food, beverage and pharmaceutical applications.
The experts at Freudenberg Sealing Technologies also offer advice on the design of the seal groove. After all, with the proper seal groove, the seal can be installed in a way that prevents leakage. Here, it is important to pay attention to a metallic compression limitation and centering. Thanks to the wide range of research and development possibilities at Freudenberg and the company's extensive product and materials expertise, the respective sealing solution can be tailored to the desired application, including hygienic flange seals.
Product Benefits
Optimization of customer-specific, hygienic sealing using the Finite Element Method

Resistance to CIP/SIP cleaning media

Materials comply with FDA requirements

Very easy to clean, even in non-rotationally symmetrical systems and standard housings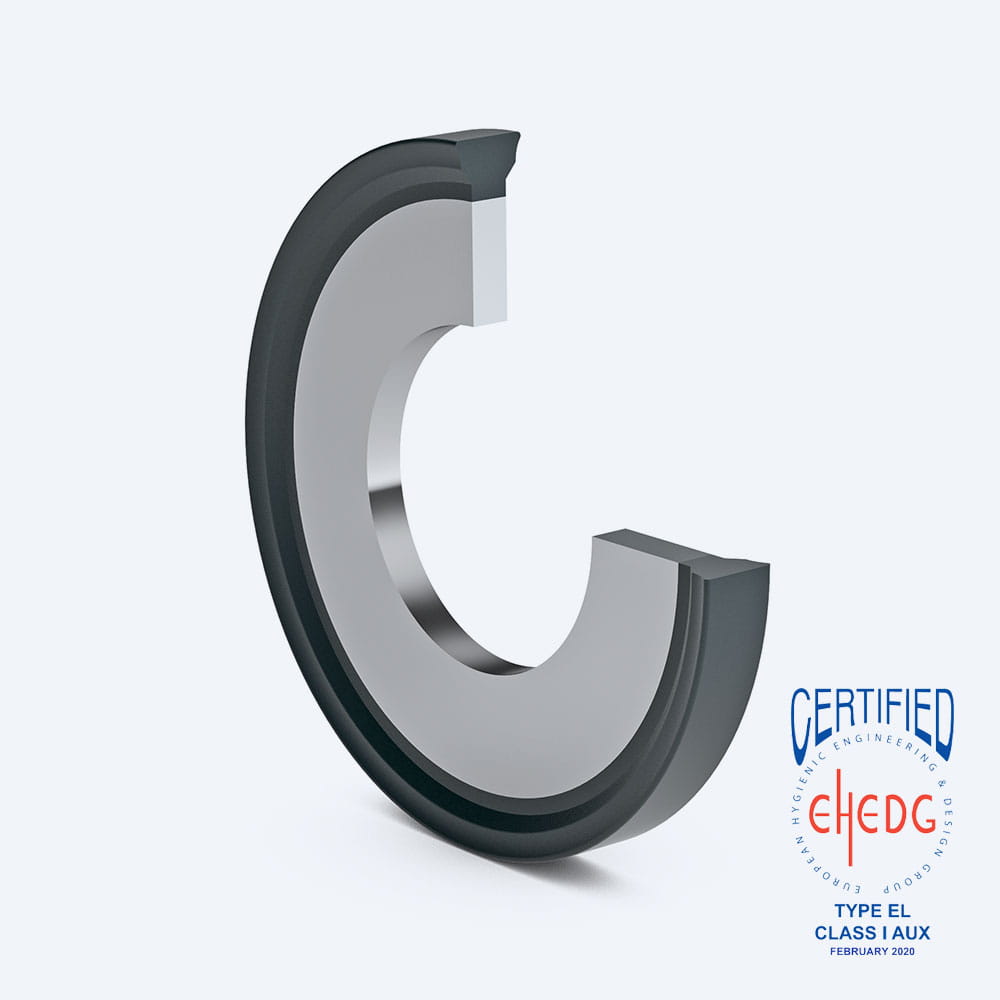 Hygienic Usit®-Rings
Freudenberg's Hygienic Usit®, specially developed for the requirements of the food and beverage industry, establishes new purity standards in open and closed production processes. It can completely replace metallic washers, which are not hygienic and should not be used in food and beverage applications. The Hygienic Usit® can be used for open and closed processes to prevent microbial formation under the screw head. The elastomer bead is available in three tested and exclusively approved materials – all suitable for areas that come into contact with the process medium itself:
70 EPDM 291 (black) is resistant to numerous media, such as CIP/SIP media, and to high temperatures
70 EPDM 253815 (white) includes RFN (Reduced Friction by Nanotechnology) treatment
75 Fluoroprene® XP 45 (blue) for applications with fatty or aggressive media and high temperatures. Plus, the material reliably prevents flavor transfer
All materials conform to FDA and 3-A® Sanitary standards and EU (Reg.) 1935/2004. EPDM also has USP Class VI approval. They are resistant to CIP/SIP processes and media.
The connection is available in the dimensions M4, M5, M6, M8, M10, M12 and M16. As an option, we provide you with specially developed NOVOnox hygienic screws with collar and cap nuts from HEINRICH KIPP WERK made of stainless steel and polished to a high gloss.
Product Benefits
Dead-space-free design to prevent contamination

Certified to EHEDG, EU (Reg.) 1935/2004 and 3-A® Sanitary Standards

Cleaning with CIP/SIP, WIP, COP, OPC and WOP process possible
Download Brochure "Product Line for Hygienic Plants in the Process Industry"
Download Flyer "Hygienic Usit®"
Open the 3D view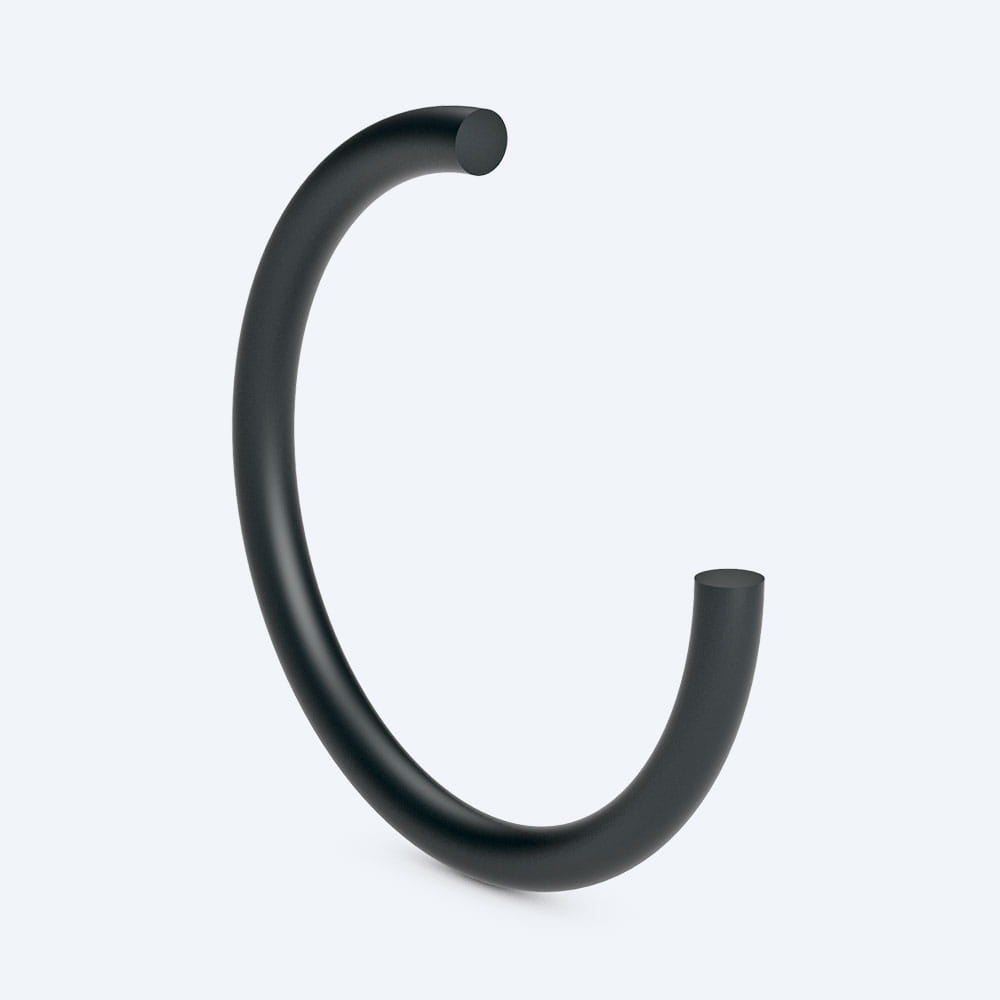 O-Rings
As a universal sealing component, O-rings are used in nearly all applications and offer excellent value for money. Available in all elastomer materials, O-rings from Freudenberg Sealing Technologies are suitable for many applications in the food and beverage industry. They are fully certified and meet all special requirements. Oval, rectangular, semicircular, and x-shaped cross-sections are possible, in addition to round cross-sections.
Product Benefits
Available in nearly all elastomers

Broad range of dimensions

Good value for money

Universal use

Easy installation in small installation spaces

High availability
Open the 3D view
Profiles and Inflatable Seals
Freudenberg Sealing Technologies offers extremely robust, high-quality, low-pressure profiles made of specially developed materials for the food and beverage industry to seal difficult application designs:
70 EPDM 391 is resistant to water, steam, acid and alkali solution
Ventoguard 472 is resistant to disinfectants and CIP/SIP media and is highly abrasion resistant
80 NBR 217383 shows good flexibility at low temperatures and is abrasion resistant
The profiles are resistant to high temperatures, cleaning agents, and other media such as water, steam, disinfectants, alkali solutions, and acids. Longevity and resilience are the most important characteristics of our profiles. For instance, they ensure that an oven door can be opened and closed smoothly without damaging the seal, plus they are resistant to extreme temperatures and fat. We have developed a special process for butt-joint vulcanization, which ensures uniform thickness throughout the profile as the joint and cord consist of the same material and the molecules are cross-linked. This results in reliable temperature and media resistance. Other standard profiles often have only low-quality joint connections formed with adhesives.
Freudenberg Sealing Technologies also offers high-quality inflatable seals for containers and doors, preventing the profile from sticking to the system and hygienically and fully sealing the system. Inflatable seals are made from Ventoguard 472. The profile is inflated during cleaning processes, which results in high contact stress. After cleaning, the seal relaxes and the system can be opened easily. As an option, we provide inflatable seals that include a special valve to control the compressed air.
Product Benefits
Extremely media and temperature resistant

All relevant food and beverage material certifications

Longevity and resilience

Special vulcanization process for optimized joint quality

Custom dimensions possible thanks to butt-joint vulcanization

Inflatable seals for reliable opening and closing of systems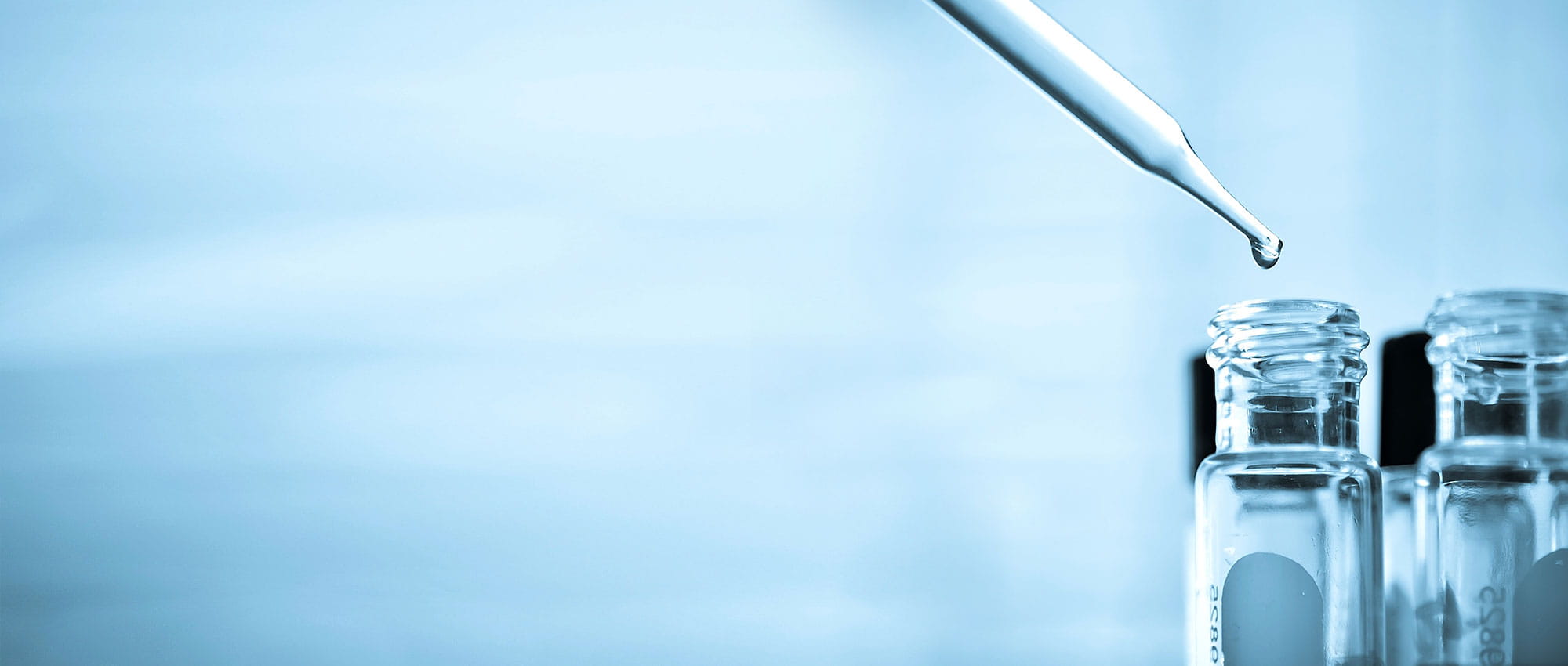 CHEMICAL RESISTANCE GUIDE
Still lost in spreadsheets?
Just a few clicks and you know which material is resistant to which process media.
Try it out now!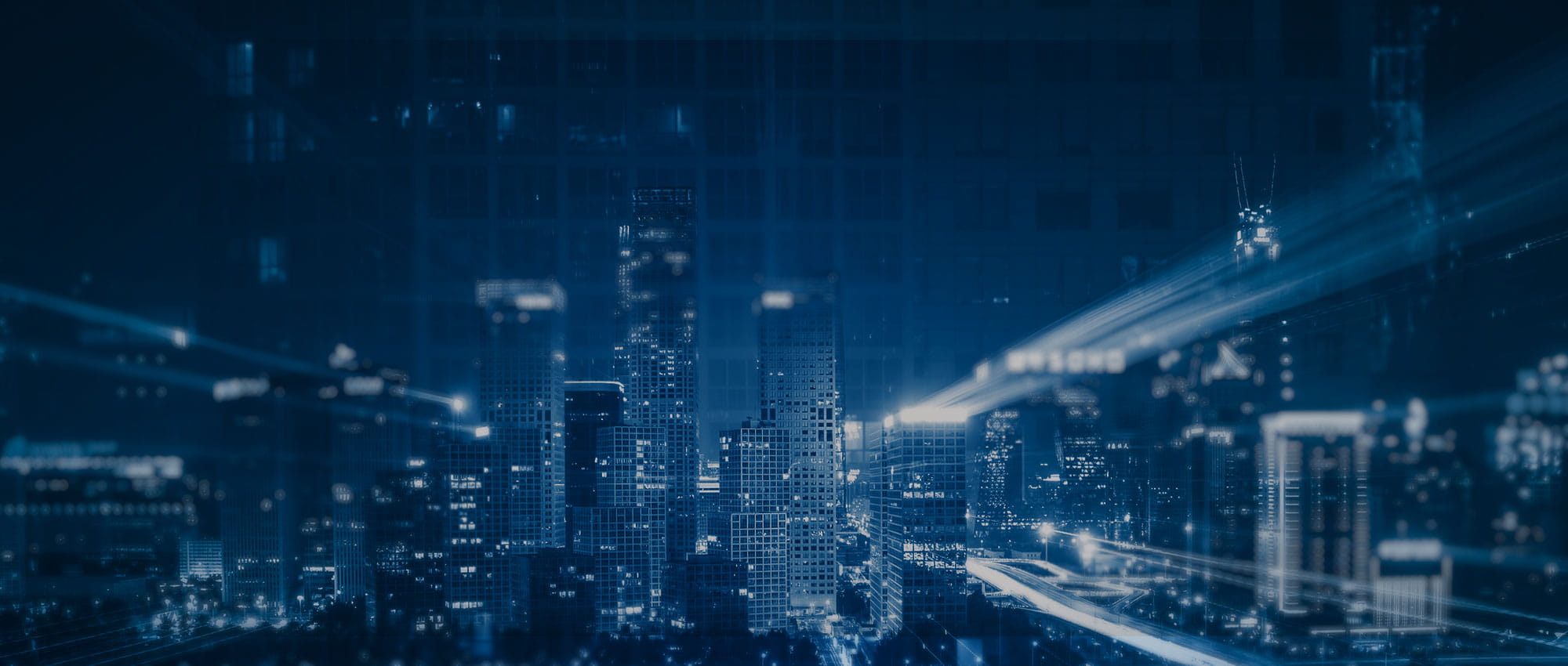 Join Us!
Experience Freudenberg Sealing Technologies, its products and service offerings in text and videos, network with colleagues and stakeholders, and make valuable business contacts.
Connect on LinkedIn!